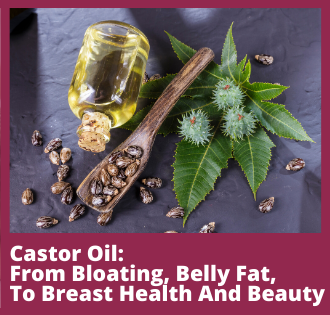 Castor Oil, what is it?
Castor oil is a vegetable oil made from the seed of the Ricinus communis plant, known as castor beans. It is a triglyceride fatty acid and almost 90% and active ingredient in the oil is known as ricinoleic acid.
This unique constitution of this oil, makes it very absorbable to the skin and effective at extracting toxins.

Historically castor oil has been used for thousands of years both orally and topically to help anything from constipation and liver health to promoting shiny, healthy hair and even inducing labour.

Benefits of Castor Oil
Reduce inflammation: it's ability to increase circulation and lymphatic drainage makes it an effective anti-inflammatory. It can be applied to achy joints, muscles and even to your abdomen if there is excess fat that surrounds your vital organs, which is considered inflammatory in nature
Reduce bloating and improve bowel movements: as a muscle relaxant, castor oil can help reduce constipation and regulate bowel movements
Improve detoxification: castor oil helps improve glutathione, our mother antioxidant which plays an important role in the liver, especially with estrogen detoxification
Increased circulation: it's heating
Possible conditions and symptoms castor oil may help with:
Bloating
Constipation
Menstrual cramps
Menstrual breast tenderness
Breast cysts
Acne due to poor detoxification
Midsection weight
Low energy
Acne and dry irritated skin
Hair falling or thinning
Joint pain
How to apply castor oil?
Length of application: castor oil packs can be applied for anything from 30-90 minutes and even up to 24 hours.
Frequency of application: it can be applied between 1-2 times per week and even daily. For example, if you are using it for menstrual cramps, apply during the few days of your period when you experience cramping. If you want to use it for achy joints, apply daily for decreased inflammation.
General note: castor oil stains! Be mindful of this when you use different materials to create your packs.
Usage instructions:
There are several ways to use it depending on the area you apply it to you and the desired result.
1-2 generations ago it was quite popular to take castor oil orally. However this can cause a strong purgative effect and is not recommended as its topical application can be very powerful and effective as it's very easily absorbed into the skin.
For hair growth support:
You can simply massage 1tsp-1tbs of castor oil on your eyebrows or hair roots / scalp (closer to the hairline). Massage gently to increase local circulation and you may use a comb to help distribute it more evenly.
Wash within 60-90 minutes or you may also sleep with it overnight but be mindful that it can stain bed sheets so consider sleeping with a hair cap or cover your pillow with a towel.
For skin health and acne support:
Since castor oil on its own is very thick, dilute it in a bottle with a carrier oil such as coconut oil, almond oil or olive oil in a 1:1 ratio. Apply gently to the face and massage in a circular motion.

You can keep it on as a mask for 30 minutes or sleep with it overnight.
For application on the rest of the body:
For a do-it-yourself castor pack, follow these instructions:

1. Use a flannel cloth and apply about 4 Tbs of castor oil onto it or otherwise directly on your skin to the desired area. One of the most common areas to apply it to is the lower side of your right body (below the right rib cage). This is the area that covers the liver, along with most of the intestines. You can also apply it between the belly button and pubic bone to tackle any menstrual concerns.
2. Apply the flannel cloth over the skin (or you can also use any other washcloth that is large enough to cover the area)
3. Apply heat pack over the cloth
4. Optional: apply another large towel to preserve the heat and generally cover the area
5. Lay comfortably for at least 30 minutes, and up to 90 minutes.
6. You can reuse the pack up to 10 times. Simply put the flannel or washcloth into a glass container (I always prefer that over plastic) and keep it in the fridge until the next use. After 10 uses, discard it since as you already know, it soaks up toxins so you don't want to use the same cloth indefinitely.
Creating your own pack can be a little tedious and time consuming for some, so one of my favourite brands is the queen of castor oil, my colleague Dr. Marisol who developed her own line of organic castor oil products and ready made packs to make this whole process simple! You can learn more at: https://shopdrmarisol.ca/
Castor oil is a great add-on to any protocol we offer our patients. It's very powerful in and of itself and a very cost-effective intervention relative to the many health benefits it offers.
If you would like to learn more about how to support your health and hormones, learn about the Hormone Rebalance Advantage program or reach out to us directly!