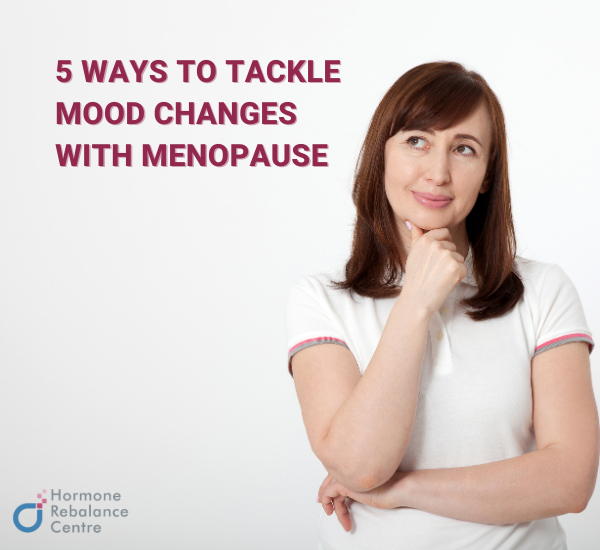 It's expected that the transition into menopause will bring with it both pleasant and unpleasant physical changes, but what happens when those changes leave you feeling anxious, depressed, agitated, lacking motivation, aggressive and forgetful?
Mental health and cognitive changes are a common occurrence during the transition into menopause and unfortunately, not many women experience positive changes in these areas. But as we often stress, menopause and the changes that come with it don't need to leave you feeling unlike yourself.
The causal link between menopause and mental health is hard to pin down, simply because every woman experiences menopause and the accompanying changes differently. Some researchers discuss the link between sleep disturbances and changes in mental health, while others look specifically at the way a woman views her changing body and roles as a factor in mental health changes during menopause. Even further, it's also likely that the decrease in hormones is partially to blame for these changes.
If you are experiencing extreme changes in mood or are considering self-harm, please reach out to your doctor or emergency services immediately. However, if you are noticing unwanted changes, but continue to feel like they aren't severely affecting your everyday life, the following tips may help you to get back to feeling like yourself. Fighting with your partner, loathing the thought of going to work or arguing with the kids isn't a normal part of life. With a few lifestyle changes, the addition of some supplements and nutritional optimization, you can turn a less than ideal menopause experience into the transition phase towards your best self. 
Causes for Mood Fluctuations With Menopause:
While menopause in and of itself is characterized by hormonal decline, specifically estrogen, which is classically the main hormone that is thought to contribute to menopausal symptoms, the truth is that there can be many imbalances involved.
While of course every woman in menopause will have a drop of estrogen, this doesn't mean that every woman should take estrogen replacement therapy to counter that. It's important to assess how low the estrogen levels actually are and in what balance they are with progesterone.
Additional hormones that could contribute to a sense of depression and anxiety around menopause are low serotonin (our feel good hormone), cortisol imbalance (our stress hormone), low melatonin (our sleep hormone) and certain nutritional deficiencies such as low B vitamins, low iron, low iodine or vitamin D deficiency.
Assessing for these factors and imbalances will allow your practitioner to be very targeted with what your body specifically needs to counter the symptoms you have.
[https://www.facebook.com/hormonerebalance/videos/1009472619525009 ]
Our Top 5 Ways To Tackling Mood Changes and Menopause
1. Support your Declining Estrogen Levels:
As mentioned, menopause is characterized by a decline in estrogen levels, among other hormones such as progesterone and testosterone. If upon testing, your estrogen levels come back low (especially if you are still not in official menopause but are perhaps in the menopausal range and are experiencing symptoms), then you may want to consider natural interventions of boosting your estrogen levels.
Phytoestrogens are a group of plant-based compounds that weakly mimic estrogen in the body. They are a fantastic option for women struggling with the symptoms of declining estrogen Some of the most popular phytoestrogens can be eaten as part of a healthy diet, while other phytoestrogens can be taken as supplements.
Adding more organic, non-GMO soy, flaxseed, yams and sesame seeds to your diet is a great way to maintain healthy eating and get a boost of estrogen into your system! Supplementing with herbs such as black cohosh, red clover, and liquorice root are also great options.
You may also consider supplementing with natural (bio-identical) estrogen cream. While some women get scared from the idea of applying estrogen, it's important to know the pros and cons of any treatment. Having low hormones for your age also comes with it's own risk factors, such as bone loss, cardiovascular disease, increased risk of dementia and Alzhiermer's and depression as well and therefore this intervention should be discussed with each woman individually to assess if this is the right treatment for her. To learn more about what bio-identical hormones are and how they different from synthetic hormone replacement, read more HERE.
It's important to make sure you are overseen by a healthcare practitioner that can guide you on the right products and doses for any supplements to not only ensure your safety but also ensure that you are taking a therapeutic dose that can make a difference in your symptoms.
2. Prioritize and cherish your sleep:
It's common for women to experience changes in sleep habits, but making it your mission to get enough sleep is top priority for beating possible mental health changes. Building a sleep routine, keeping your bedroom for sleep and sex only and limiting devices at night will go a long way towards helping you get a full night's sleep!
If you are struggling with sleep, you should consider testing for factors such as melatonin levels (our sleep hormone), cortisol (our stress hormone to ensure it's not too elevated at night and is the cause of having a hard time falling asleep or staying asleep) and progesterone levels (which is our zen hormone that helps keep us calm and relaxed and supports our sleep).
Supplementing with what you are deficient in will not only help your sleep, but will spill over to better moods and less irritability and apathy that come from sleep-deprivation. To read more about why you may be struggling with sleep, check out this video from our founder Dr. Inna Lokshin, ND.
3. Maintain or Begin an Exercise Program:
Researchers have found that women who participate in aerobic training can help to mitigate some symptoms of menopause, namely mood swings and irritability. Not only can exercise help you to burn off steam, deal with stress and potentially help to shrink your waistline, but exercise can make you feel GOOD! When you become aware of everything your body can do, it's hard not to love it!
Aim for 150 minutes per week of aerobic exercise, like brisk walking, cycling, swimming, running or rowing. Additionally, postmenopausal women can benefit greatly from strength training 2 days per week to protect against osteoporosis. There are plenty of online resources, group fitness classes and personal trainers that can help you find the best plan for your needs!
4. Support your neurotransmitters:
Neurotransmitters, such as GABA, dopamine, epinephrine and norepinephrine and serotonin, are chemical messengers that are used by the nervous system to send messages to various organs in the body. They are commonly targeted by prescription medications that help alleviate anxiety and depression.
There are many natural interventions that can support neurotransmitters and can be an effective intervention for anyone struggling with mood disorders, such as supplementing with GABA directly , 5-HTP to boost serotonin levels naturally or B-vitamins and magnesium as they are critical co-factors for the production of these neurotransmitters in the body.
As always, it's best to first assess if you are out of balance with your neurotransmitter levels to begin with and devise a plan to correct it accordingly. It's also very important to note that if you are taking prescription medications, taking natural interventions, as benign as they may seem, should be supervised by a healthcare professional.
5. Support your self-care:
It's important to note that mood changes around menopause are not just caused by hormonal and biochemical changes. This period in a woman's life in and of itself is a substantial transition that should not be undermined.
It's the end of your fertility window, it's the end of your cycles that you have likely had for over 30-40 years of your life, your body is changing, there could be new symptoms that you had never experienced before and you may find yourself reflecting on the life behind you and the life ahead of you. Many women are busy either taking care of aging parents, growing children, changing relationships, changing careers and realizing that they have spent many years taking care of others and not prioritizing their own needs, wants and desires.
If you are feeling at a crossroads around this time of your life, whether you are in menopause or not, there is always room to prioritize yourself and wellbeing. Not only it is a way to support your cortisol levels, which can only make any hormonal transition worse, but also it's an opportunity to focus on the things that really matter and will only help those around you: your own health and well-being.
Engage in practices such as journaling, meditation, self-reflection, being by yourself or with others, seeing a therapist, a life coach, picking up a new hobby or new skill, focusing on your health, strengthening the relationship you have with yourself and making space in your life for YOU. These practices will go a long way to help your moods and are arguably the most important for long-term resolution of symptoms.
As you can see, mood changes around menopause have a biochemical mechanism of action and it is not a disorder or disease. With that being said, it doesn't mean you need to suffer silently thinking it will go away when the hormones settle down. There is no need to live a lower quality of life and this time of transition in a woman's life is an opportunity to turn into the best version of yourself and give your body the support that it needs.
If you feel like menopause and mood changes have left you feeling down, anxious or irritable please reach out to our team of Naturopathic Doctors at Hormone Rebalance Centre! We offer a number of programs and services and our aim to treat the root cause of your complaints! You can also request a complimentary discovery call to discuss your unique needs and potential treatment options. We look forward to hearing from you!